Currently in our country, the rate of infertility amounts to around 17% of the population. This means about 800,000 couples who have fertility problems, and this number continues to increase. In addition, more than 48 million infertile couples are estimated worldwide. In summary, the problem of infertility affects approximately 1 in 6 couples.
This increase of infertility in the population is due, among other things, to the delay of the age for the birth of the first child; and certain environmental factors, such as tobacco use, overweight or environmental pollution. In general, 30% of infertility cases are due to male problems, another 30% to female problems and the remaining 40% to mixed or unknown causes.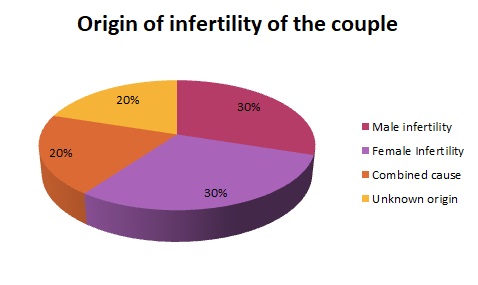 For this reason, the use of assisted reproduction techniques is increasing in our society. Thus, according to the latest data known by the Spanish Society of Fertility (SEF), in 2014 amounted to more than 100,000 cycles of treatment performed in our country. Thanks to these treatments, more than 25,000 children are born each year in Spain through assisted reproduction. Around the world, more than seven million babies have been born with these techniques. Spain is the European country with the highest number of in vitro fertilization cycles, according to the latest study.
Naturally, it is considered that there is a possibility of 25% pregnancy with the sexual relationship maintained at the time of ovulation of the woman. However, after the age of 35, this possibility decreases, when reproductive potential is reached, so that once the age of 40 is reached, the possibility of pregnancy per month is less than 10%. In most cases, when people go to a specialized center for assisted reproduction, they will get the desired pregnancy and the birth of a healthy baby.
It is noteworthy that the treatment with the highest success rate, with approximately 60% to achieve pregnancy, is ovodonation, which means in vitro fertilization using donor eggs. In contrast, the technique with the lowest success rate would be the simplest, intrauterine insemination (IUI), which involves introducing the semen directly into the uterus after being processed in the laboratory, with approximately 15% success.
As far as we are concerned, the most performed techniques in our center are ovodonation and IVF/ICSI, which are cycles combining in vitro fertilization and sperm microinjection to improve the chances of pregnancy. In addition, our success rates using preimplantation genetic diagnosis (PGD) are the highest, while our abortion rate is the lowest at present.
Phi Fertility
C. Orjuela, Embryologist.
Contact us.
Vithas Perpetuo Internacional. Plaza del Doctor Gómez Ulla 15, en Alicante.
Teléfono: 965230397 / +34 606437458
Email: info@phifertlity.com
You can keep informed of our publications and news through our social networks Facebook and Twitter